My last post was the middle of Feburary!
Have I been busy with housework?
Not Really.
Have I been busy with my sewing projects?
Sort-of.
Have I been busy crocheting?
Sort-of.
But mostly I've been busy visiting.
I
Love, Love,
Lov
e,
visiting all the wonderful ladies out in Blogland.
There are so many talented bloggers with absolutely wonderful blogs with lots of great pictures.
I can get lost for hours--first clicking on this one, and then finding another link there, and another and another and another--
First there's Sarah
What she can do with a can of white paint is amazing.

Then there's Manuela--
Her home is so inviting I could visit for hours.
She does wonderful tablescaping.
I love getting inspiration for my sewing projects at---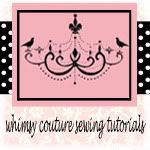 If you want/need pictures of the beach then you need to visit Tootie on
Sanibel Island
She even has video and the sound of the waves on the shore.
And of course there's Kim at
Daisy Cottage
Her home is so colorful and there's Maggie.
Oh I could go on and on and on------
Does anyone else have this
problem
-- obsession?